A special 1970s holiday surprise!
Memorable Moments from Los Angeles County Fire and Agriculture Legacy Members
Sue and Bob Underwood have been F&A members since 1966. But it wasn't until the mid-1970s that they opened a youth savings account for their two sons, ages five and six at the time. Little did the Underwoods know that F&A was also holding a contest for opening new accounts.
Only expecting to have a safe, secure place to put money aside for her little ones, Sue recalls the surprise of learning that her boys won the contest.
"Several very nice credit union representatives came to our home to present our boys with a giant four foot tall Christmas stocking! It was filled with toys, games, stuffed animals - everything imaginable!" said Sue. "Our boys were thrilled, and our entire family felt special."
The F&A representatives even took the family picture below to mark the special occasion.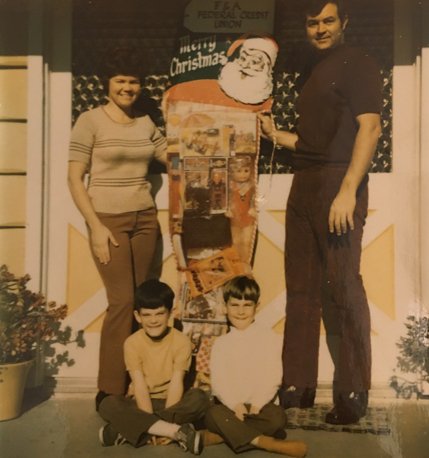 Sue and Bob Underwood (standing,) Michael and Thomas (seated).
The Underwood family continues to be proud members of F&A today, nearly 55 years after they first joined the Credit Union.
***************************************
About F&A's History Campaign
For over 75 years, Los Angeles County Fire and Agriculture members have been instrumental in the development and growth of F&A. When we recently asked for historical stories and photos about these members, our email box was full of anecdotes describing member ingenuity, courage, and sincere gratitude. We are honored to highlight memorable moments as shared by legacy members.
Stories featured in F&A's History Campaign receive a $250 cash award.